---
Under Administration > Users, you will see the Replace User option. Using this function, you can look up any user in the system and globally replace them with another user. Users can be replaced globally or in specific situations. You can also replace users in specific open tasks.

Once selected, you have the option to choose the User to Replace, the User to Assign, and to select the checkbox for any or all of the following: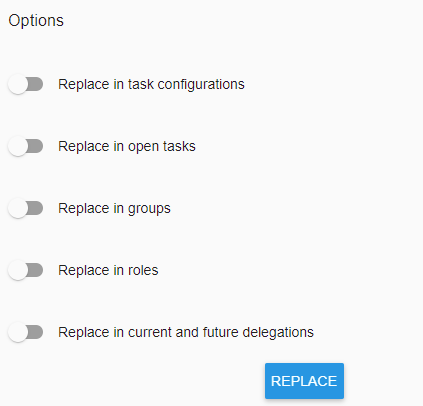 Once you have selected a User to Replace, you will be given the option to view the user's:
Process Tasks (tasks he/she has been configured for in processes)
Open Tasks (current open tasks)
Groups (existing groups that he/she is a member of)
Roles (existing roles that he/she is a member of)
Delegations (another user's tasks that he/she is a current delegate for)
Replace a User Immediately in Specific Open Tasks
If you need to quickly replace a user who has several open tasks, you can do that right from the Open Tasks window. Simply click on any open tasks that you'd like to replace with your selected replacement user and click "Reassign Immediately in Selected Tasks.