The HTML Panel Widget can be added to your dashboard and is used frequently for a variety of purposes. Some include instructional whereby user directions can be added or informational such as a broadcast message of a new acquisition or promotion.
Using the HTML Panel Editor in Dashboards
 Adding an HTML Panel Widget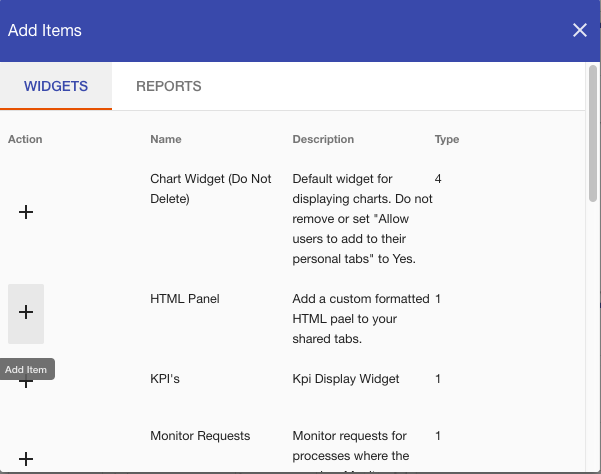 Simple HTML Widget with Text

Extending the HTML Widget with Styling
Adding Process Launch Buttons
Using inline styles, you can do more with our HTML Widgets. For example, if you wanted to add a series of buttons that allow users to launch a process you can do so using this technique.
Styled Layouts
You can use inline styles and DIVs to create layout containers and tables with more flair.
For instance something like this:

We created a table using DIVs and added some class styles to achieve this effect. The code we used is below. To create the buttons, see the previous tip. Of course, feel free to experiment!
<div class="divTableHeading" style="display: table-header-group; background: linear-gradient(to bottom, #5592bb 0%, #327cad 66%, #1C6EA4 100%); border-bottom: 2px solid #444444;">
<div class="divTableRow" style="display: table-row; background: #00000;">
<div class="divTableHead" style="display: table-cell; border: 0px solid #AAAAAA; padding: 5px 5px; font-size: 18px; font-weight: bold; color: #ffffff; border-left: 2px solid #D0E4F5;">COLUMN 1</div>
<div class="divTableHead" style="display: table-cell; border: 0px solid #AAAAAA; padding: 5px 5px; font-size: 18px; font-weight: bold; color: #ffffff; border-left: 2px solid #D0E4F5;">COLUMN 2</div>
<div class="divTableHead" style="display: table-cell; border: 0px solid #AAAAAA; padding: 5px 5px; font-size: 18px; font-weight: bold; color: #ffffff; border-left: 2px solid #D0E4F5;">COLUMN 3</div>
<div class="divTableHead" style="display: table-cell; border: 0px solid #AAAAAA; padding: 5px 5px; font-size: 18px; font-weight: bold; color: #ffffff; border-left: 2px solid #D0E4F5;">COLUMN 4</div>
<div class="divTableHead" style="display: table-cell; border: 1px solid #AAAAAA; padding: 5px 5px; font-size: 19px; font-weight: bold; color: #ffffff; border-left: 2px solid #D0E4F5;">COLUMN 5</div>
</div>
</div>
<div class="divTableBody" style="display: table-row-group;">
<div class="divTableRow" style="display: table-row;">
<div class="divTableCell" style="display: table-cell; border: 0px solid #AAAAAA; padding: 3px 2px; font-size: 13px;"><button onclick="Integrify.startRequest({process_sid: 'ENTER SID'})" class="theme-primary md-raised md-button md-ink-ripple">BUTTON NAME</button></div>
<div class="divTableCell" style="display: table-cell; border: 0px solid #AAAAAA; padding: 3px 2px; font-size: 13px;"><button onclick="Integrify.startRequest({process_sid: 'ENTER SID'})" class="theme-primary md-raised md-button md-ink-ripple">BUTTON NAME</button></div>
<div class="divTableCell" style="display: table-cell; border: 0px solid #AAAAAA; padding: 3px 2px; font-size: 13px;"><button onclick="Integrify.startRequest({process_sid: 'ENTER SID'})" class="theme-primary md-raised md-button md-ink-ripple">BUTTON NAME</button></div>
<div class="divTableCell" style="display: table-cell; border: 0px solid #AAAAAA; padding: 3px 2px; font-size: 13px;"><button onclick="Integrify.startRequest({process_sid: 'ENTER SID'})" class="theme-primary md-raised md-button md-ink-ripple">BUTTON NAME</button></div>
<div class="divTableCell" style="display: table-cell; border: 0px solid #AAAAAA; padding: 3px 2px; font-size: 13px;"><button onclick="Integrify.startRequest({process_sid: 'ENTER SID'})" class="theme-primary md-raised md-button md-ink-ripple">BUTTON NAME</button></div>
</div>
<div class="divTableRow" style="display: table-row;">
<div class="divTableCell" style="display: table-cell; border: 0px solid #AAAAAA; padding: 3px 2px; font-size: 13px;"><button onclick="Integrify.startRequest({process_sid: 'ENTER SID'})" class="theme-primary md-raised md-button md-ink-ripple">BUTTON NAME</button></div>
<div class="divTableCell" style="display: table-cell; border: 0px solid #AAAAAA; padding: 3px 2px; font-size: 13px;"><button onclick="Integrify.startRequest({process_sid: 'ENTER SID'})" class="theme-primary md-raised md-button md-ink-ripple">BUTTON NAME</button></div>
<div class="divTableCell" style="display: table-cell; border: 0px solid #AAAAAA; padding: 3px 2px; font-size: 13px;"><button onclick="Integrify.startRequest({process_sid: 'ENTER SID'})" class="theme-primary md-raised md-button md-ink-ripple">BUTTON NAME</button></div>
<div class="divTableCell" style="display: table-cell; border: 0px solid #AAAAAA; padding: 3px 2px; font-size: 13px;">&nbsp;</div>
<div class="divTableCell" style="display: table-cell; border: 0px solid #AAAAAA; padding: 3px 2px; font-size: 13px;">&nbsp;</div>
</div>
</div>